VMworld 2021 has been and gone, it was delivered as a virtual event again with the hope and aim that next years events will be in person - in both Barcelona and San Francisco, this year had a heavy focus around multi-cloud and how these clouds can provide advantages into application development and delivery.
With Multi-Cloud becoming a more viable concept, it raises plenty of new challenges around control, adoption and operability. VMware have captured what they believe are the core elements to a successful cloud transformation, they have labelled this the VMware Cloud Operating Model. This operating model was a key focus area for VMworld and the majority of other announcements feed directly into this.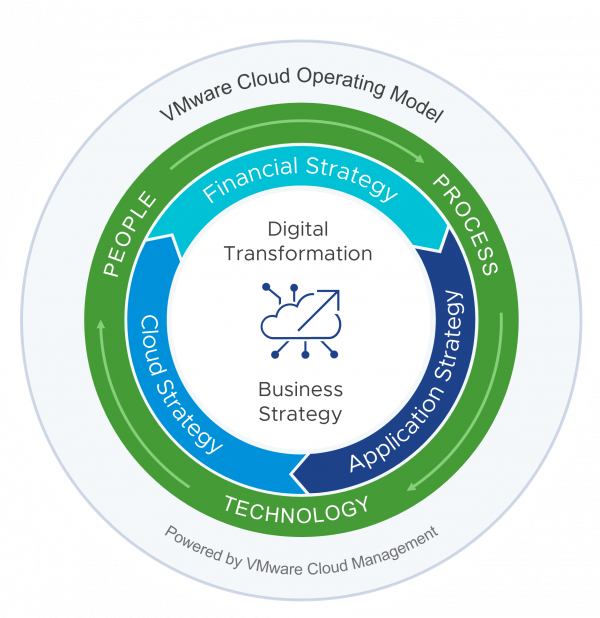 Below I have summarised the announcements across the vRealize Suite and Tanzu Portfolios.
#

vRealize Suite
With a continued focus on Multi-Cloud and Cloud Management, it is no surprise that the vRealize Suite has seen multiple enhancements and releases.
Project Ensemble: A tech preview was announced for Project Ensemble, that brings single UI with persona and app-centric views for a unified experience across all vRealize Cloud Management services.
vRealize Cloud Universal: Combine SaaS and on-premises capabilities for automation, operations, log analytics, and network visibility with vRealize Cloud Universal. You get the flexibility to deploy as SaaS or on-premises and the freedom to move between the two as needed.
vRealize Suite Lifecycle Manager 8.6: Topology view of vRealize product deployments, notification enhancements, and additional capability for managing vRealize products, such as snapshot management and cloud proxy deployment.
vRealize Automation Cloud and 8.6: New multi-cloud capabilities, particularly focused around Azure. New integration support for VMware Cloud Director environments and improvements to its VMware vSphere with Tanzu integration.
vRealize Operations Cloud and 8.6: Improved integration between vROPs and vRA and also public clouds, such as AWS, Azure and GCP. New management packs and bi-directional integration with CloudHealth
vRealize True Visibility Suite 2.0: Storage and Compute management packs now included with every licensed level of vROPs
vRealize AI Cloud: New beta features to support vRA Cloud and improved network optimisation within vRNI. The product also saw added capability around Smart Initial Sizing and Placement, adding KPI based statistics that better align to business value.
vRealize Log Insight Cloud and 8.6: Continued improvements around the logging capability for both cloud and on-premises products. Enhanced regional availability and AI powered root cause analysis for vRLI Cloud.
vRealize Cloud Universal Standard Add-on for Horizon (MP4H): A new monitoring add-on for all VMware Horizon customers that adds capabilities and enhancements into vROPs.
vRealize Network Insight Cloud and 6.4: New locations for vRNI Cloud, including Frankfurt and Central Canada. Added capabilities and integrations for NSX Federation, VMware Cloud and ServiceNow.
CloudHealth: Introduction of line items, allowing better visibility and control for chargeback and showback across multi-cloud environments.
CloudHealth Secure State: Two new capabilities focused on the security and risk visibility across cloud infrastructure; Kubernetes Security Posture Management (KSPM) and Explore - a powerful search feature for multi-cloud deployments, allowing the effective management
VMware Skyline: Skyline Advisor Pro is a new offering for Production, Premier, vRealize Cloud Universal, and Success 360 Customers that promises to provide faster, smarter and simpler insights into issues, remediation suggestions and findings across its managed environments.
#

Tanzu
Tanzu Community Edition: A full featured and easy to manage Kubernetes platform based on the existing Tanzu Kubernetes Grid offering. TCE provides an opinionated approach to deploying Kubernetes clusters utilising Cluster API.
Tanzu Application Platform/Service: Continued improvements to the modular and application-aware platform for developers - some improvements include better developer tooling, such as IDE plugins and extensions, supply chain choreography based on the Cartographer open source project, and security enhancements.
Tanzu Mission Control: A new Starter Plan - a free tier to Tanzu Mission Control - allowing access to the multi-cloud management plane, for better visibility and control into Kubernetes clusters. TMC also has added capability around the lifecycle of Tanzu Kubernetes Grid clusters deployed into Azure. TMC Essentials will be included in VMware Cloud with Tanzu Services.
VMware Cloud with Tanzu Services: A portfolio of managed Kubernetes services built on top of VMware Cloud.
VMware Tanzu Kubernetes Grid GPU Support: VMware have announced GPU support with vSphere with Tanzu (TKGS) and also with Tanzu Kubernetes Grid (TKG) on AWS and Azure, helping organisations avoid AI silos for developers.
Tanzu Observability: AI/ML capabilities to aide in root cause analysis (Automated Probable Root Cause), enhanced Prometheus Query Language support, improved alerting processes and integrations into vROPs Cloud.
Sources \ https://blogs.vmware.com/management/2021/10/whats-new-in-cloud-management-at-vmworld-2021.html \ https://blogs.vmware.com/management/2021/10/introducing-vmware-cloud-director-support-in-vrealize-automation.html \ https://tanzu.vmware.com/content/blog/vmware-tanzu-community-edition-kubernetes-cloud-native-ecosystem \ https://tanzu.vmware.com/content/blog/